Two Stories about Quality Inspection
When I was working at a top American retailer, an indoor household storage manufacturer in Fujian, China, received a fine of four million US dollars. The reason for this is that the peak production season coincided with the wet rainy season in southern China, and the factory did not keep the moisture in the wood frames within reasonable range before the bulk shipments. This resulted in one hundred thousand storage bins made of wooden shelves and non woven fabric that became moldy and grew fungus, turning them into an expensive pile of rubbish.
Another story is about a well-known handicraft Group company in Shandong Province, China. The 30-year-old company declared bankruptcy and left more than 300 people out of work after being fined by a US retailer. What's more, this resulted in the retailer not having a follow-on product in the same category for two years due to technical fault until a new manufacturer was well-developed.
In both cases, lack of quality inspection or in-comprehensive quality control inspection activity is the main reason that finally resulted in huge loss.
Why Quality Inspection Is So Important?
Every year, the United States' Consumer Product Safety Commission (CPSC) posts thousands of recalls. The products recalled, removed from shelves and even destroyed are all defective in quality. They are either not suitable for consumer use in design or quality, or do not meet the national standards of the country where they are sold. Same problems also exist in other countries in the world.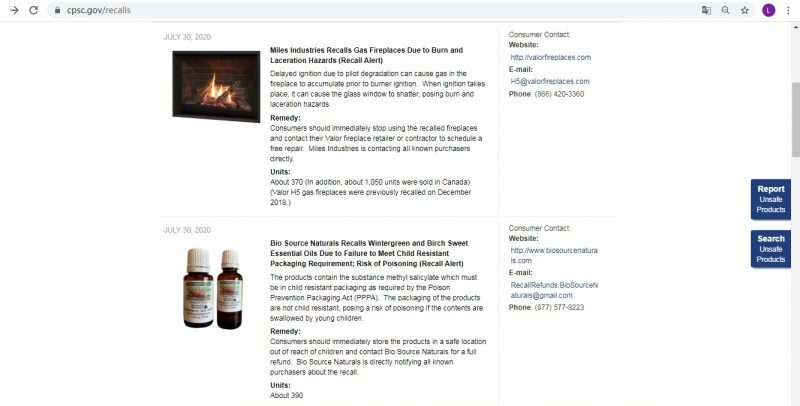 For consumers, these problems may cause them to find it inconvenient to use the products, feel the quality is not reliable, and distrust the brand. Serious problems can cause harm to the human body, even life-threatening;
For the sellers, whether it is retailers, importers, or manufacturers, these problems bring incalculable losses of real money.
In the long run, strong brands backed by deep pockets will have the wherewithal to withstand the setbacks of such a loss; but some weaker brands could suffer a devastating blow.
In any case, the bad press that comes with it and always will be, can be a brand's death knell.
Let's just suppose- what if these problems are discovered and fixed in time? Putting just a fraction of these financial costs into the quality inspection of the brands in the manufacturing process will do the exact opposite: You won't lose money, you'll make a decent profit.
One is positive and one is negative, and the result is obvious. Therefore, in cross-border trade, as in any case, prevention is always better than cure, and doing your work ahead is always a simple recipe for quality assurance success.
That, is why we exist in this industry.
Since inXpection's inception, we have provided quality inspection services to dozens of well known importers and hundreds of Amazon sellers, successfully helping them ensure product quality, maintain consumer reputation, and protect their brand.
Quality inspection it is so important, especially for manufacturers at the very beginning of the trade chain. Next, we will explain what quality inspection is in details.
What Is Quality Inspection?
Quality inspection also named as quality control inspection, as the words implies, it is a process and action to inspect the products manufactured by the manufacturer in accordance with the customer's purchasing requirements, Specifications, Approved samples and State policies & protocols. Especially if your manufacturer is overseas, you need to rely on quality inspection to ensure that your partner is delivering the products that meet all your expectations.
For example, if you're a furniture retailer, you need to make sure that the manufacturer's products are of the right size and structure, that the wood is not lower grade or counterfeit; if you're a jewelry retailer, you need to ensure that the manufacturer's product design fully complies with your requirements, and that the materials do not contain excessive amounts of heavy metals.
In addition, any information on the retail packaging of the product must be checked for any product information errors or non-compliance with State laws and regulations.
And so on, according to different categories, products, raw materials and the final use, to carry out the corresponding inspections.
Who Do Quality Inspection?
Quality inspection can be carried out by the buyer's own quality team (First Party inspection) , by the manufacturer's quality team (Second Party Inspection) , or in cooperation with a professional third party Quality Inspection Company (Third Party inspection) .
First Party Inspection
Judging from the development trend of the whole international trade industry in the past, it is very expensive to hire your own staff or set up a team to do quality control work, both the operations and management teams will consume a lot of the company's energy.
Second Party inspection
Experience has shown that relying solely on the producer for quality management is unreliable. Although there has been a significant improvement in the quality awareness of manufacturers over the past decade or so, in the non-highly automated production sector, margins and lead times have affected, it is difficult for manufacturers to fully meet customer requirements through a series of high standards of quality control.
Third Party inspection
What we can see is that in the past decade, internationally renowned retailers, including IKEA, Walmart and Target, have entrusted quality control to professional third-party quality service providers. We believe that the outsourcing of Quality Management Services is a proven better way and an inevitable trend of low-cost operation.
There are a number of third-party service providers specializing in quality inspection, you are free to choose the right partner for your company. However, the world's top third-party service providers such as BV, SGS, ITS (Intertek) usually charge higher fees, while some small third-party service providers do not have enough manpower and experience to carry out effective work, they hire part-time and unprofessional personnel, which makes it difficult to give enough security, ethics and professionalism.
INXPECTION, as a professional third party quality service provider, has been approved and documented by Target Ethics and Guest Relations Departments. inXpection is staffed by experts formerly from Products Safety & Quality Assurance team and Technical team of Target, IKEA and other named retailers, will ensure that you receive products that meet customer expectations through quality inspections at all stages of production, including pre-production, during-production and post-production.
How to Do Quality Inspection?
A formal quality inspection must have elements of standards, references, evidence, results, and qualified executor.
1. Benchmark of inspection
Whether it is a first party, a second party or a third party quality inspection, there must be physicals, documents and credentials as reference and benchmark before performing an inspection task. It at least includes but is not limited to
A. Purchase Orders, Packing List
B. Specifications (Technical Specification, BOM, Assembling Instruction, Performance Requests, Acceptable Manufacturing Variations, Acceptable Tolerance, etc.)
C. Approved Samples (Original Approved Samples- Red Seal, Yellow Seal; Initial Production Samples- Green Seal; Shade-bands; etc.)
D. Protocols (Drop Test Requirements, Strength Requirements, Heavy Metal Content Requirements, etc.)
E. Certificates (FSC certificate for timber, Tracking Label for children's products, CE certificate for EU markets, etc.)
F. Packaging Requirements (Packaging Safety Requirements, Packing Details, Shipping Marks, Retail Packaging details, etc.)
G. Other special requirements
…
2. Tools
Different tools apply to different products, commonly used tools are tape measure, caliper, humidity meter, Level Gauge, tension meter, color matching box, thickness gauge, feeler, code scanner, defects label and so on.
3. Common Standards
For example, the common Defect description List, the applicable AQL (click to know what AQL is) standard, ANSI/ASQ A3534-2-1993, and so on.
*All quality inspection activities are performed by following, performing, or using the above elements to identify defects and determine results.
Of course, there's more
4. Inspection Report
Any form of quality inspection will eventually be reflected in a corresponding inspection report. A qualified inspection report shall contain at least the following information:
A. Customer Information (Customer Name, Country of Origin, etc.)
B. Factory Information (Factory Name, Address, Registration Number, etc.)
C. Order Information (PO Number, Order Quantity, Item Number, Product Description, Delivery Date, Packing Requirements, etc.)
D. Sampling Standard (Applicable AQL standard, Percentage Sampling, 100% Inspection, Batch Sampling, etc)
E. Canonical Defects Description & List
F. Photos of Evidence
G. Verification of other information (including but not limited to: Whether the factory cooperated with the inspection, whether the quantity completed is up to standard, whether the goods are stored at the registered address of the factory, whether illegal outsourcing of production is found, etc. .)
H. Results (PASS, FAIL, some clients might accept a PENDING result when there are uncertain issues)
I. Signatures (Inspector, Factory Representative)
Etc.
5. Inspector with Expertise and Ethics
Experienced Inspector can help you in the shortest time to understand the current problem, and to solve the problem at a lower cost. Novice and unskilled Inspector, on the other hand, can make things worse — they don't have the ability to deal with the problem further, just simply and stiffly make unreasonable judgments.
Moreover, there are plenty of corrupt ones in the industry who perform unethically, and aim to get money from factories.
InXpection's employees, who originally work in the Product Safety and Quality Assurance Department, or Technical Departments of large retailers like Target, IKEA, etc., are experienced and skilled in both expertise and communication. We are proud quality service provider in Target Supply Chain, approved and documented by the Ethics Department the Guest Relations Department.
Types of Quality Inspection
Generally, the quality inspection work applies to the whole process from the product development stage to the production process to the final shipment. inXpection offers the following quality inspection services, you can choose all of our services throughout the process, or one of them.
These include:
1. Pre-Production Verification, or called Initial Inspection
(including: pre-production meeting; First production Units Verification (FUV); and so on.

)

Quality expert participates in the manufacturer's pre-production meeting according to customer's requirement before mass production, and carry out the Specification review, BOM Verification, Capacity Verification, Factory Duplicated Sample Verification, etc., to confirm to whether the manufacturer can fulfill its commitment. Learn more

The First Production Units Verification is very important to the whole production. Checking the first item off production line is the opportunity to physically check and find any potential quality issues prior to mass production, which can be used to assess whether the following production meets all processes, design and specification requirements, and make corrections prior to it.
2. During Production Inspection (DPI, or DUPRO Inspection)
That is, when the batch production is about 10-20% finished, the inspector comes to the manufacturer's site for a regular sampling inspection, and make a quality judgment for this batch of goods. This action is later than the Initial Inspection, but also an important inspection in the whole production process.  Learn more..
3. On-line Supervision (OLS)
Monitor and control the whole production process to find all problems in the whole production process and solve them in time. Usually requested by stringent customer for important program.
4. Final Random Inspection (FRI)
The final random inspection before shipment is also a very formal, standard and comprehensive random sampling inspection for the entire batch of products. It is the last chance to solve the problem at the manufacturer's place.  Learn more..
5. Sample Pulling (SPL)
Due to technical limits and site conditions, chemical tests and some high level physical test required for certain products can not be performed on-site in manufacturer's place. So normally the first-party or independent third-party Inspectors are required to seal randomly selected product samples, and send them to the designated laboratory.  Learn more..
6. Container Loading Supervision (CLS)
CLS helps you to ensure that the details in the last step before shipment are correct before final payment is settled, and that the product actually ordered is safely packed in your container in good quality and quantity.  Learn more..
The above is almost all the details about quality inspection. I hope you can have a comprehensive understanding of what is a quality inspection through the above description.
How can inXpection help you?
In China, we have professional inspectors on standby, can reach your factory in 72 hours to carry out the task.